Have you ever been in charge of an event or activity that required volunteers to pull it off?  I'm sure we all have in some way, shape or form.  I'm sure we've all had those times where it was a breeze, people raising their hands left and right, jobs being delegated like hot cakes.  There's joy and comraderie, and before you know it, everything's complete.  You know those times?  Those times are great, aren't they?  I'm sure we've each experienced the opposite too, where it felt like pulling teeth to get hands to raise, let alone actually follow through.  You know, where you have to stop asking and start telling instead?  Uggh.  Those times are never fun.  Never.
In Isaiah 6:8, God is looking for a volunteer.  He asks two questions.  Just two.  No lengthy explanation of who, what, where, when, why and how.  Just two simple questions.  "Whom shall I send?  And who will go for us?"
You know what He heard?  First of all, let's talk about what He didn't hear.  He didn't hear silence.  He didn't hear excuses.  He didn't hear a long list of questions – you know, the ones that fall into those who, what, where, when, why and how categories just mentioned. Ya, those.  No, He didn't hear any of these things.  What He did hear, much like His two simple questions, were two simple responses.  "Here am I. Send me."
That volunteer…his name was Isaiah.  You know why Isaiah was able to so quickly, so passionately, and so trustingly respond in such a way, without knowing any details?  Details like where he'd be going, what he'd be doing, how'd he get there, how long he'd be gone for or what he'd eat along the way?  Well, when we read the first 8 verses of Isaiah 6, we become aware that Isaiah has just had quite an encounter.  In verse 1, he saw the Lord.  He saw the Lord!  Whoa!  That alone will mark a man, but it goes on!  Not only did he see the Lord, but in verse 8, he heard the voice of the Lord.  He heard the voice of the Lord!  Those two things right there – that's how Isaiah was empowered to respond in such a way.
Back in 2012, the first year that David's Tent was raised on the National Mall, the Mitchell Family from Connecticut was there. They had a chance to experience David's Tent first hand and their hearts were gripped by the vision.  Over the years since then, Zac and Becky, have prayed faithfully for David's Tent and stayed connected to what's been happening here in DC, all while being a steadfast presence in their local House of Prayer
https://hartfordprayer.com
in Hartford, CT, helping fuel worship & prayer in their state capital.  When they heard God call their family last year to move to DC to be a part of David's Tent, they responded without hesitation.  They didn't know how everything would pan out, but anything in their power to do as they followed Holy Spirit's guidance, they did.  They began making preparations, put their house on the market, gave notices at jobs, began job searching in DC, made plans to transfer their 3 children, ages 6, 9 and 12 at the time, to new homeschool groups in DC,  and scouted out housing options in DC.  Was it easy?  Oh my, no!  As I was in communication with Becky throughout their journey here, to which they finally landed in DC at the end of November, much later than they ever thought or desired, Jason and I could hardly believe the continual obstacles this family was having to hurdle over.  With each update email or text from Becky, we were astounded.  This family was persistent!  Even after they arrived, they immediately began leading worship at David's Tent, and you know what happened?  They showed up for their scheduled two hour watch and the upright piano, used for the unplugged hours of night watch, was being tuned inside the tent where there couldn't be any other noise!  They led worship outside the tent in the frigid December air – with near frozen fingers, chattering teeth and smiles on their faces!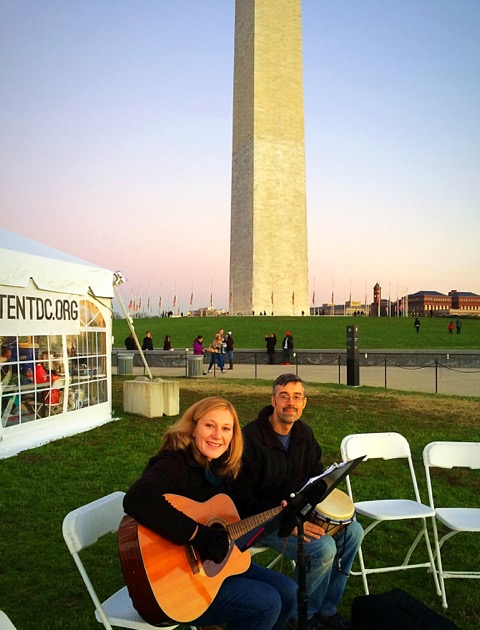 How?  Why?  What could possibly cause a family that was so rooted and grounded in their community and their current flow of life to be willing to endure such craziness?  You know what I think?  Two reasons: They saw the Lord and they heard His voice.  And because of that, like Isaiah, they were undone.  Willing to give it all.  No turning back.
Each week (and twice weekly in the summer), Zach and Becky lead worship at David's Tent.  Zac has a full-time job and Becky is a full-time, homeschooling mom of 3.  They up and moved their whole family here to DC for what they could give to God on their free time.  Now that's a volunteer!
Now, do you remember how David tried bringing the Ark of the Covenant into Jerusalem on an ox cart in 2 Samuel 6:1-6?  Do you remember how that didn't pan out too well, especially for Uzzah (2 Samuel 6:7)?  It took David several months to realize that there was a specific way God desired His Presence to be carried and to work up enough nerve to try again.  The second try though, he got it right.  He had the Ark of the Covenant carried into Jerusalem on the shoulders of men and God was pleased.  Now that's humbling.  To this day, He still chooses us, his people, to carry His presence.
It's volunteers like the Mitchell's, whether full-time, part-time or one-time, that we recognize carry David's Tent and the reality of 24/7 worship on the National Mall in our nation's capital.  Their unhesitating "Here am I. Send me." causes me to want to be in that secret place with the Lord, where I can see Him, hear His voice, and renew my own "Here am I. Send me."